Personal Protective Equipment
This page collects observations, interpretations, and consequences for action about the PPE for SARS-CoV2. Please observe the structure of the page, when you add your content. Please use references where possible. Remember to find the relevant page. For example, if your observation is about transmission routes, please use that page, instead of posting your content here.
What is already known
| Protection | Suggested PPE |
| --- | --- |
| Respiratory protection | FFP2 or FFP3 respirator (valved or non-valved version)* |
| Eye protection | Goggles (or face shield) |
| Body protection | Long-sleeved water-resistant gown |
| Hand protection | Gloves |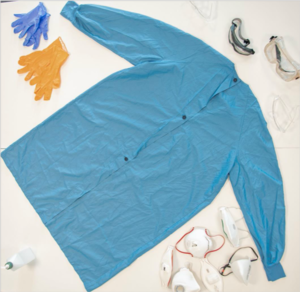 PPE scarcity
Observations
PPE is increasingly unavailable for health care workers
Analysis and interpretation
in time of scarcity, the health care worker is faced with a moral dilemma: do I treat the COVID19 patient without PPE or not?
is there an alternative for PPE?
Consequences for action
Governments must ensure availability of PPE
Clear and evidence-based advice is needed to guide health Care Workers through their job while minimizing the risks of infection
PPE Guidelines
References