Timeline Page
2019
A confirmed case of the novel coronavirus emerged on 17 November 2019, according to 13 March 2020 reports of official Chinese government sources,[1] but was not recognized at that time. There may have been earlier patients; the search for them continues.[2][3][4]
The first known patient started experiencing symptoms on 1 December 2019. He had not been to the Huanan Seafood Wholesale Market of Wuhan. No epidemiological link could be found between this case and later cases.[5][6]
Between 8 and 18 December 2019, seven cases later diagnosed as COVID19 were documented; two of them were linked with the Huanan Seafood Wholesale Market; five were not.[7]
Chinese state broadcaster CCTV reported in a broadcast airing on 12 January 2020 that a "new viral outbreak was first detected in the city of Wuhan, China, on 12 December 2019". [8]
Studies are performed to further identify the virus. [9]
According to a post at China Youth Daily, Wuhan Fifth Hospital gastroenterology director Lu Xiaohong reported suspected infection by hospital staff on 25 December.[10]
A cluster of patients late December is linked to the Wuhan Food Market. At that stage, there are already several Previous patients without any known connection to that market, but in he subsequent months, the Wuhan Market Cluster will fuel theories of this being the 'ground zero' of the epidemic.[11]
Other clusters appear, also in Chinese health care facilities. A whistleblower ophthalmologist is disciplined in public, and forced to work with COVID19 patients. He is subsequently infected and dies of the complications. [12][13]
By the end of December 2019, 27 suspected cases in total, seven of which were in critical condition and 18 were stable, two of which were on the verge of being discharged soon.[14] The Wuhan Municipal Health Committee reported to the WHO that 27 people had been diagnosed with pneumonia of unknown cause.[15] Early investigations into the cause of the pneumonia ruled out seasonal influenza, SARS, Middle East respiratory syndrome and bird flu.[16][17]
HongKong decides that "any suspected cases including the presentation of fever and acute respiratory illness or pneumonia, and travel history to Wuhan within 14 days before onset of symptoms, we will put the patients in isolation."[18] WHO reports this outbreak on 31 December 2019 and monitors the follow up closely.
2020
This month, the number of cases will increase from 44 to 9,826 and will spread from China to 15 other countries, including France, Germany, Italy and UK.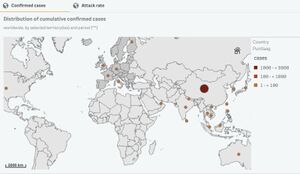 Like HongKong, Taiwan and Singapore also implement health precautions in the first week of January: arrivals on direct flights from Wuhan are being screened for flu-like symptoms on the tarmac in Taipei before they can disembark. China is clearly sensoring public reports of the disease, and publicly reprimands whistleblowers.
WHO (first) and ECDC (4 days later) publish risk assessments of the situation. [19]. Remarkable is that ECDC states "Considering there is no indication of human-to-human transmission and no cases detected outside of China, the likelihood of introduction to the EU is considered to be low, but cannot be excluded.", despite knowing that previous severe coronavirus infections (SARS, MERS) emerging in humans have all transmitted from person to person.
WHO issues its first guidance on the novel coronavirus [20] to help countries check their ability to detect and respond to a novel coronavirus, identifying main gaps, assessing risks and planning for additional investigations, response and control actions. China starts sharing the genetic code of the virus. ECDC updates countries (on 18 January) and mentions the interconnection with China (300 000 Passengers/month EU <--> China); they advise to identify possible cases among returning travelers. WHO manages to get a large (200+) joint mission to China, to assess the situation. Such external assessment in China is unprecedented and facilitated sharing of knowledge and tools.
ECDC states on 21 January that there is a moderate likelihood of detecting cases imported into EU/EEA countries, yet that "the likelihood of a case reported in the EU resulting in secondary cases within the EU/EEA is low". Four days later, ECDC reports that the outbreak evolves rapidly and that person to person spread is likely. WHO struggles in calling this a Public Health Emergency of International Concern (PHEIC), because of the international legal consequences.
On 26 January, ECDC follows its first Risk Assessment with the advice that "the impact of the late detection of an imported case in an EU/EEA country without the application of appropriate infection prevention and control measures would be high, therefore in such a scenario the risk of secondary transmission in the community setting is estimated to be very high". This urges all countries to focus fully on containment. Four days later, WHO calls it a PHEIC, while all 5 regions have now been affected.
This month, the pandemic (even when WHO refuses to categorize it as such) will grow from 9826 to 85,203 cases (growth factor 8.5).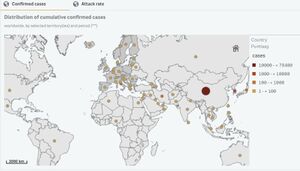 Early February, there are 16 cases in 5 EU countries with local transmission. China takes unprecedented control measures. ECDC still advises that risk of person to person transmission in EU countries is low, provided that all imported cases are detected promptly, isolated and all their contacts traced and quarantined. In 24 EU countries, 38 labs had COVID19 tests available, yet availability of primers/probes, positive controls and personnel were main implementation barriers.
ECDC publishes "Guidelines for the use of non-pharmaceutical measures to delay and mitigate the impact of 2019-nCoV". This includes surgical masks for care providers of suspect COVID19 cases and those with extensive public contact. Few countries at that moment adapt the advice to provide masks to professionals with extensive public contact, though that will change in May and June. In addition, ECDC states that "school children are considered to be one of the main drivers of respiratory virus spread in the community", though it is not yet known how much nCoV2 transmission will occur among children. "Proactive school closures may be considered if there is ongoing transmission of 2019-nCoV in an area". Countries like the Netherlands contradict this advice by stating that children do not contribute significantly to COVID19 transmission (though no evidence at that time would support such policy advice).
Meanwhile, WHO steps up the warnings to other countries, as it views the complacency of many as a threat to effective pandemic control. On 11 February, Director General Dr. Tedros says that every country should take this virus very seriously. He is losing sleep over it, and he expects that every government should lose sleep over it. This virus should be seen as 'public health enemy nr 1'. "There is a window of opportunity. If we lose it, we will regret it. You need to hit hard, fast". At that moment, carnaval celebrations are about to start in many countries including the Netherlands, and in March it will be discovered that allowing carnaval was a major factor in accelerating the exponential spread.
The UN activates WHO-led Crisis Management Team (with executive director dr Mike Ryan), bringing together WHO, OCHA, IMO, UNICEF, ICAO, WFP, FAO, the World Bank and several UN Secretariat departments.
ECDC publishes further guidance and advises to recognize the community as a partner, and to develop an understanding of community perceptions, promote community debriefing, dialogue and a culture of shared learning. Also, ECDC urges countries to roll-out primary testing capacity to local clinical and diagnostic laboratories. For some countries, such as the Netherlands, restricted testing capacity will be a major obstacle in addressing the pandemic effectively, at least until June. Other countries, including Germany, Iceland, find ways to rapidly roll out diagnostic capacity.
ECDC underlines that during the containment phase, extensive tracing and risk assessment of contacts of probable and confirmed cases detected in EU/EEA countries is required in order to minimize the further spread and to strengthen the evidence base on the characteristics and transmission pattern of the disease. Suspected, probable or confirmed cases of COVID19 should be reported to the public health authorities and managed in accordance with national guidance and/or WHO's patient management guidelines. In several countries, the pandemic is politicized and China (and Chinese people) are blamed. WHO strongly responds: "We must be guided by solidarity, not stigma. The greatest enemy we face is not the virus itself; it's the stigma that turns us against each other. We must stop stigma and hate." (Dr. Tedros)
In the second half of February, WHO warns that the 'window of opportunity is narrowing'. WHO publishes guidance on getting workplaces ready for COVID19. By the end of the month, EU has 770 cases, including 18 deaths in 19 countries.
March - 797,268 cases
This month, the global case-counter will advance from 87,024 to 797,268 cases (growth factor of 9.2).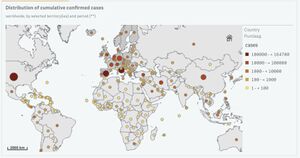 ECDC publishes new guidance and risk assessments. It emphasizes the importance to enhance surveillance, epidemiological investigation, close contact tracing, management of close contacts, immediate case detection and isolation. "There's no choice but to act now" (WHO, Dr Tedros) A shortage of personal protective equipment endangering health workers worldwide
The WHO R&D roadmap for COVID-19 outlines research priorities in 9 key areas. These include the natural history of the virus, epidemiology, diagnostics, clinical management, ethical considerations and social sciences, as well as longer-term goals for therapeutics and vaccines.
WHO: "All countries must aim to stop transmission and prevent the spread of COVID-19, whether they face no cases, sporadic cases, clusters or community transmission." and (finally) calls the COVID19 PHEIC a pandemic on 11 March.
Europe becomes the epicenter of the pandemic
WHO keeps insisting that countries should test every suspected case of COVID-19. Meanwhile, countries that have failed to ramp up diagnostic capacity, are forced to prioritize testing. In the Netherlands, this leads on 12 March to the decision to let go of the containment strategy, and to move to mitigation efforts. As a consequence, NL suspends the national obligatory notification of suspect covid cases: the epidemic progresses exponentially as the country struggles to double ICU capacity, while practically suspending all non-essential medical procedures.
COVID19 starts to affect areas in the world that are already plagued by severe humanitarian crises. The UN Secretary-General calls for solidarity, hope and political will.
WHO and FIFA team up on a campaign to kick out coronavirus
ECDC Risk Assessment: The risk of severe disease associated with COVID-19 for people in the EU/EEA and the UK is currently considered moderate for the general population and very high for older adults and individuals with chronic underlying conditions. The risk of occurrence of widespread national community transmission of COVID-19 in the EU/EEA and the UK in the coming weeks is moderate if effective mitigation measures are in place and very high if insufficient mitigation measures are in place.
Several parties in the lower house of Dutch parliament are in favor of forcing pharmaceutical company Roche to release the manufacturing process and recipe of the coronavirus test they make if this is necessary. This would make it possible for tests to be produced in the Netherlands, NOS reports. Some time later, the Switzerland based pharmaceutical company Roche releases the detailed guidelines on how to prepare the lysis buffer fluid for the COVID19 test, after pressure and negotiations with Dutch ministry of health. [21] UK Prime Minister Boris Johnson tests positive for SARS-CoV2.
By the end of this month, there are 797,268 cases globally, including 37,911 reported deaths.
April - 3,133,235 cases
This month, the pandemic will expand further globally, to a cumulative of 3,133,235 cases (growth factor this month: 3.9)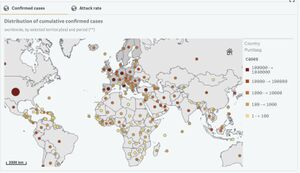 UK Prime Minister Boris Johnson is hospitalised with #COVID19 [22]
ECDC advises on using face masks in the community - Reducing COVID-19 transmission from potentially asymptomatic or pre-symptomatic people through the use of face masks. [23]

By 15 April the German Federal Ministry has agreed with the German States the guiding principle: "to protect all people in Germany as well as possible from the infection". In order to quickly identify infection chains in the future, carry out targeted tests, ensure full contact tracking and provide professional care for those affected, considerable additional personnel capacities are created in the local public health services, at least one team of 5 people per 20,000 inhabitants. Germany has a high test capacity of up to 650,000 tests a week to detect corona infections (PCR tests). The federal government secures additional test capacities for Germany by purchasing test equipment. [24]. Meanwhile, officials in the Netherlands express their doubt about the use of contact tracing, and advocate 'controlled spread of the virus, to achieve group-immunity'. This point of view meets with opposition from outside the public sector, though this does not change the point of view for the remainder of the month. The formal national guidance states that source and contact tracing 'have no priority', and that contact tracing is to be restricted to contacts that could transmit COVID to high-risk groups.
ECDC Published Infographic CONTACT TRACING:

ECDC publishes the 9th Rapid Risk Assessment that includes public health objectives: "Limit and control virus circulation and transmission in the general population now (flattening the curve) and for the years to come to maintain the number of new SARS-CoV-2 infections at manageable levels for the healthcare system, and possibly allowing for gradual acquisition of population immunity."; this suggests that ECDC has given up the ambition of containment, and joins the member states that aim for group immunity, and 'controlled circulation'.
By the end of April, the WHO-IHR Emergency Committee met. The Committee unanimously agreed that the outbreak still constitutes a public health emergency of international concern (PHEIC) and offered advice to the Director-General, who declared that the outbreak of COVID-19 continues to constitute a PHEIC.
May - 6,028,628 cases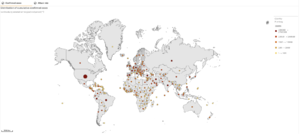 The pandemic spread generates growing awareness that deep economic recession may lie ahead. WHO and the European Investment Bank (EIB) will boost cooperation to strengthen public health, the supply of essential equipment, training, and investment in countries most vulnerable to the COVID-19 pandemic. The first phase will address urgent needs and strengthen primary health care in ten African countries.
More reports emerge about the correlation between a paediatric inflammatory multisystem syndrome and SARS-CoV-2 infection in children.
ECDC continues to publish valuable guidance to help countries prepare for contact tracing: "Contact tracing for COVID-19: current evidence, options for scale-up and an assessment of resources needed". Soon thereafter, WHO publishes their contact tracing guidelines. The response among EU countries varies. Germany had already stepped up their contact tracing strategy as well as capacity since mid-April,[25], while being very clear about their strategy: "to protect all people in Germany as well as possible from the infection". Other countries, such as the Netherlands, still stated in their online COVID19 guidance that source tracing had no priority and that contact tracing was to be restricted to high-risk populations only. The Dutch parliament debated fiercely with the Prime-Minister Mark Rutte, to understand what the cabinet exactly meant with their strategy of 'maximum control'. The Prime-Minister refused to acknowledge that this was to be interpreted as 'maximum reduction of transmission'. The Prime-Minister responded "We, therefore, opt for maximum control, whereby the virus is kept under control as much as possible. If there are outbreaks, you will start containment." [26]
ECDC Publishes a 3rd update of the Technical Report "Infection prevention and control and preparedness for COVID-19 in healthcare settings - third update". ECDC also published a Rapid Risk Assessment: Paediatric inflammatory multisystem syndrome and SARS-CoV-2 infection in children.
As more EU countries consider relaxing the lockdown measures, especially allowing the airline industry to pick up speed again, ECDC publishes technical report "COVID-19 Aviation Health Safety Protocol: Guidance for the management of airline passengers in relation to the COVID-19 pandemic", and later, the technical reports "Considerations for travel-related measures to reduce spread of COVID-19 in the EU/EEA" and "Projected baselines of COVID-19 in the EU/EEA and the UK for assessing the impact of de-escalation of measures"
June - 10,273,424 cases
On 12 June, the Dutch Government decided that airline travel could commence operations as usual, based on scientific advice from the Dutch Ministry of Health.[27] The Dutch Minister of Transport, Public Works and Water Management, together with the Minister for Public Health advise the Dutch parliament that Distancing measures in aeroplanes are not necessary, according to the Considerations on COVID9 by the Ministry of Health. The Considerations on COVID9 by the Ministry of Health do not seem to include such conclusion: on the contrary, they acknowledge that distancing is a key principle in COVID19 prevention. Yet, these considerations fail to include the most relevant conclusion by ECDC on travel-related COVID19 risk: no matter how many preventive measures you take, travel will always increase COVID19 risk. And the fewer measures, the higher the risk. The omission of distancing cannot be compensated by other measures. See also the Dutch Discussion on Public transport.
July - 17,298,074 cases
The global pandemic is still accelerating. This creates a new thread of confusion in public communication; the difference between 'new cases', 'epidemic growth', 'accelerated transmission', and 'exponential growth', may be commonplace for the numerically educated, yet these concepts are not always well understood. Dr. Tedros says "We all want this to be over. But the hard reality is that this is far from over."
August - 25,275,762 cases
References
↑ China's first confirmed Covid-19 case traced back to November 17. South China Morning Post. Josephine Ma. Published: 8:00am, 13 Mar, 2020
↑ The first COVID-19 case originated on November 17, according to Chinese officials searching for 'Patient Zero'. Business Insider. Isaac Scher 3/13/2020.
↑ Davidson, Helen (13 March 2020).|First Covid-19 case happened in November, China government records show – report. The Guardian. ISSN 0261-3077. Retrieved 15 March 2020.
↑ Walker, James (14 March 2020). China Traces Coronavirus to First Confirmed Case, Nearly Identifying 'Patient Zero'. Newsweek. Retrieved 14 March 2020.
↑ Wuhan seafood market may not be source of novel virus spreading globally. Science. By Jon Cohen. Jan. 26, 2020 , 11:25 PM
↑ Who is 'patient zero' in the coronavirus outbreak? BBC. By Fernando Duarte 24th February 2020
↑ Early Transmission Dynamics in Wuhan, China, of Novel Coronavirus–Infected Pneumonia. 29 January 2020; New England Journal of Medicine. vol0. doi=10.1056/NEJMoa2001316.pmid=31995857
↑ Chinese scientists identify the 'Wuhan Virus'. Screening continues on Thai-bound flights. access-date=8 February 2020
↑ Identification of a novel coronavirus causing severe pneumonia in human: a descriptive study. doi=10.1097/CM9.0000000000000722. pmid=32004165. Chinese Medical Journal. 11 February 2020
↑ Before Zhong Nanshan spoke, the doctor in Wuhan issued an outbreak alert to a nearby school. Wang Jiaxing. January 28, 2020
↑ An Outbreak of NCIP (2019-nCoV) Infection in China — Wuhan, Hubei Province, 2019−2020. 1 January 2020.China CDC Weekly. volume=2.issue=5;pages=79–80
↑ Chinese Coronavirus Whistleblower Li Wenliang Dies of the Disease – Caixin Global.
↑ China investigates SARS-like virus as dozens struck by pneumonia. 31 December 2019. Deutsche Welle
↑ Cite web|url=https://promedmail.org/promed-post/%7Ctitle=Promed Post – ProMED-mail|access-date=2020-02-08|archive-url=https://web.archive.org/web/20200205085608/https://promedmail.org/promed-post/%7Carchive-date=2020-02-05%7Curl-status=live
↑ The continuing epidemic threat of novel coronaviruses to global health – the latest novel coronavirus outbreak in Wuhan, China. International Journal of Infectious Diseases. volume=91|issue=|pages=264–266|doi=10.1016/j.ijid.2020.01.009|pmid=31953166|issn=1201-9712
↑ Pneumonia of Unknown Cause in China – Watch – Level 1, Practice Usual Precautions – Travel Health Notices. 6 January 2020
↑ Hong Kong takes emergency steps as a mystery 'pneumonia' infects 27 in Wuhan. 31 December 2019. South China Morning Post
↑ Pneumonia cases possibly associated with a novel coronavirus in Wuhan, China. ECDC. RRA. 9 January 2020
↑ National capacities review tool for a novel coronavirus. WHO technical guidance. 9 January 2020. Publication
↑ Roche deelt recept van vloeistof voor coronatests alsnog. NOS News. 27 March 2020
↑ Coronavirus: PM admitted to hospital over virus symptoms. BBC News. 6 April 2020.
↑ ECDC Technical Report. Using face masks in the community - Reducing COVID-19 transmission from potentially asymptomatic or pre-symptomatic people through the use of face masks.8 April 2020.
↑ Decision of the Chancellor's telephone switching conference with the heads of government of the federal states on April 15, 2020. Website of the German Federal Government. Accessed 20 April 2020
↑ Decision of the Chancellor's telephone switching conference with the heads of government of the federal states on April 15, 2020. Website of the German Federal Government. Accessed 20 April 2020
↑ Tweede Kamer, 73e vergadering. Woensdag 20 mei 2020 Plenair verslag. Status: gecorrigeerd.
↑ Kamerbrief Over COVID19 en Luchtvaart. 12 juni 2020