Contact Tracing
This page collects observations, interpretations, and consequences action about the Contact Tracing as an intervention for SARS-CoV2 in general. Please observe the structure of the page, when you add your content. Please use references where possible. Remember to find the relevant page. For example, if your observation is about transmission routes, please use that page, instead of posting your content here.
Principles of contact tracing
[
edit
]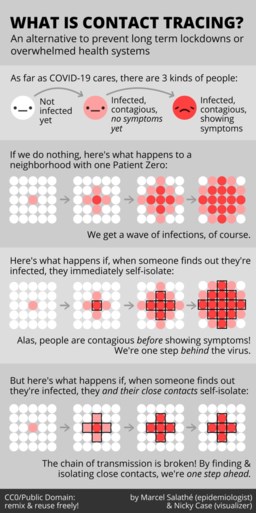 Contact Tracing (Artwork by Nicky Case. Creative Commons)
The idea of contact tracing is to rapidly identify ALL persons who have been in close contact with a patient during the contagious period. Identified contacts should be (self) quarantined and monitored for the maximum duration of an incubation period, and tested as soon as symptoms appear. In some situations, testing can be added to the monitoring, regardless of symptoms. The aim is to identify new cases and isolate them timely.
WHO COVID19 Contact Tracing Guidelines
[
edit
]
Contact Tracing Apps
[
edit
]
Some public health groups have developed Apps and other digital tools for Contact Tracing, some dating back to the SARS outbreak (2003). Here is an overview, followed by our usual observations, interpretations, and actions.
Overview of apps
[
edit
]
| Name | Feature | Developer | Outbreaks |
| --- | --- | --- | --- |
| Go.data | Create tailored investigation form, chain of transmission, info can be adapted according to the diseases | GOARN | Ebola, Diphtheria |
| TraceTogether | used to identify close contacts based on the proximity and duration of an encounter between the two users. | Singapore Gov. and SGUnited | Covid-19 |
| WeTrace | via mobile data, generates a unique QR code per user and traces their timeline, movements, locations, and even other users | Department of Health, the Philippines | Covid-19 |
| Close contact detector | indicate each person's status: green for people who can leave their homes, yellow for people who need to quarantine themselves at home for seven days, and red for those who need to quarantine themselves at home for 14 days. The app tracks people's movements. Having contact with people known to be infected or traveling to affected areas changes a person's status. Only those with a status of green are allowed to enter businesses or to use public transportation or public facilities. | China | Covid-19 |
| Corona 100m | Not specific for contact tracing but informs citizens of known cases within 100 meters of where they are. | South Korea | Covid-19 |
| CommCare | App that was used during the West Africa Ebola outbreak in Guinea. | DiMagi | Ebola (Now offered for free for COVID19 |
Obeservations
[
edit
]
Analysis and interpretation
[
edit
]
Consequences for action
[
edit
]
Comparing Contact Tracing in Europe
[
edit
]
Obeservations
[
edit
]
Comparing contact tracing protocols of EU countries with ECDC and WHO guidance:
| Topic | WHO Interim Guidelines (10 may) | ECDC recommendaton (8 April) | DE (4 may) | NL (6 may) |
| --- | --- | --- | --- | --- |
| Start infectious period COVID case | 2 days before onset | 48 hours before onset | 2 days before onset | 2 days before onset |
| End infectious period COVID case | 14 days after onset | 14 days after onset | unknown | 24 hour after symptoms disappear or "after at least 7 days since onset" |
| Start infectious period asymptomatic COVID | 2 days before first positive sample | 48 hours before first positive sample | | |
| End infectious period asymptomatic COVID | 14 days after positive sample | 14 days after positive sample | | |
| Face to face contact within 2 meters for > 15 minutes | Risk (<1 meter > 15 mins) | High risk | High risk | High risk (note: in NL the distance is 1.5 m) |
| Physical contact with COVID case | Risk | High risk | High risk | High risk |
| Unprotected, direct contact with secretions of COVID case | Risk | high risk | High risk | High risk |
| In same closed environment (e.g. Waiting Room) for more than 15 minutes | Risk | High Risk | Medium risk | Low risk |
| In same aircraft 2 seats removed from covid case | Risk | High risk | | High risk |
| HCW providing care to COVID without proper PPE | Risk | High risk | High risk | |
| Lab worker handling COVID samples without proper PPE | Risk | High risk | High risk | |
| Other high risk events | | | Aerosol procedures | |
| Face to face contact within 2 meters for <15 minutes | | Low risk | | |
| In same closed environment (e.g. Room) for <15 minutes | Risk | Low risk | | |
| Travelling with COVID case in any mode of transport | | Low risk | | |
| HCW providing care to COVID with proper PPE | | Low risk | low risk | No Risk |
| | | | | |
| Source tracing | | Not mentioned | No priority | Identify possible source of infection: |
| Contact identification and listing | Develop a contact list. Contact Each by phone or in person at first | Immediately after confirmed or probable case was identified | Immediately after confirmed or probable case was identified | Immediately (<24 hrs) after confirmed (probable or suspect cases are not reported) case was identified |
| Follow up high risk contacts | Active, Daily OR: by self-reporting WITH zero reporting | Actively, daily | Actively, daily | Passive, via mail. |
| Follow up low risk contacts | | Self-monitoring | Self-monitoring | Self-monitoring |
| Contact definition | Time, Place, Person | Time, place person | Time, place person | Place, Person |
| | | | | |
| Intervention high risk contacts | | 14 days quarantine (home) | Stay at home, avoid contacts | Household members of covid cases stay at home "as much as possible" for 14 days. Note: Children may go to school, and adults may leave the house for shopping (!) |
Analysis and interpretation
[
edit
]
Consequences for action
[
edit
]
References
[
edit
]
↑ 2.0 2.1 Coronavirus: S'pore Government to make its contact-tracing app freely available to developers worldwide. PUBLISHED MAR 23, 2020, 5:58 PM SGT
↑ WHO. About Go.Data. https://www.who.int/godata/about
↑ Cebuano IT expert develops mobile app for COVID-19 contact tracing. Published March 23, 2020, 12:07 PM. By Minerva Newman. Manila Bulletin.
↑ China launches the coronavirus 'close contact detector' app. BBC News. 11 February 2020.
↑ South Korea to step-up online coronavirus tracking. News. 12 Mar 2020 by Sarah Wray: Editor, SmartCitiesWorld
↑ 3 Lessons from Contact Tracing During the Ebola Outbreak. Blog. DiMagi Website. March 7, 2016
↑

Sacks, Jilian A., et al. "Introduction of mobile health tools to support Ebola surveillance and contact tracing in Guinea." Global Health: Science and Practice 3.4 (2015): 646-659.

↑ 9.0 9.1

Danquah, Lisa O., et al. "Use of a mobile application for Ebola contact tracing and monitoring in northern Sierra Leone: a proof-of-concept study." BMC infectious diseases 19.1 (2019): 810.

↑ 10.0 10.1 OXFORD UNIVERSITY BIG DATA INSTITUTE. NEWS RELEASE 17-MAR-2020. Oxford University provide evidence for coronavirus mobile app for instant contact tracing
↑

REF

↑ EMERGENCY GUIDELINE. Implementation and management of contact tracing for Ebola virus disease. September 2015